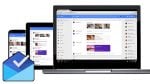 No doubt you have heard of and are probably well acquainted with Gmail. It's an email interface most of us have used. You may be less familiar with Google's "other" email offer: Inbox
What makes it better than Gmail?
It's much faster at reading/processing emails than Gmail, especially when it comes to newsletters. Inbox provides you a quick summary of the newsletter before you even open it. What exactly makes it better or different to Gmail?
Inbox groups (or bundles) emails in a far more intuitive way than Gmail. This is especially useful if you receive automated emails that you later simply delete or archive. Inbox allows you to do this with a single swipe or click.
Integrated into Inbox is a smart reminder system. For example, if you receive an email that you need to deal with, but not at this time, simply "snooze" the email until the time or place (yes, location is another new option in Inbox) and it will reappear in your Inbox then, or in the case of a location choice, when you arrive at that location.
Inbox has smart replies built in. Have a look at it in action below:
Thought has been given to the layout of all emails on mobile as well as computers. You'll find the interface different, but also familiar if you are familiar with using Google services.
How do I use it?
It's simple, just visit Inbox while you are logged into your Gmail account and you will be on your way.
To see what Google themselves have to say about Inbox, visit this page: www.google.com.au/inbox/  and take the time to watch the video they have put together. There are a number of other features we have not touched on in this post, so let us know if you would like to hear more about a particular feature and we'll be happy to explain.
It seems likely in time Gmail will evolve into Inbox, or the features will be integrated. So there is no better time to see the future of Gmail/Inbox.